3 Steps for Greening Your Company's Supply Chain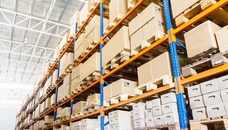 Creating a more sustainable supply chain is not just good for the environment. The same steps that you take to create a less wasteful supply chain can also save your business money by becoming more efficient.
Anyone who has scrutinized their supply chain knows, however, that it's easier said than done. It is a step-by-step process that takes time. But it also happens to be time well spent.
Here are three steps to get you started:
1. Reduce transportation miles
One of the most energy-saving moves that environmentally responsible toy maker, Green Toys, made was to ignore the usual shipping route, co-founder Robert von Goeben told Entrepreneur. Instead of shipping raw materials to a factory in China, then shipping the finished product back to the United States, the company chose to manufacture in San Leandro, Calif., down the road from Green Toys' warehouse in Mill Valley.
Keeping the transportation miles to a minimum can create additional advantages, including increased flexibility and access. The blog Ecopreneurist recounts the story of a wholesale distributor of locally grown food in Michigan that was able to cut poultry to customer's specifications — something that would have been impossible if it was utilizing more distant vendors.
In fact, some retailers have been returning to smaller, regional distribution centers in order to reduce transportation costs and have better access to goods, according to Ecopreneurist.
2. Take inventory of your supply chain
A good first step to improve supply chain sustainability is to map out your supply chain, taking inventory of the most significant environmental and social challenges each of your suppliers are experiencing, according to GreenBiz. Then prioritize your suppliers accordingly — and potentially cut some out.
New Balance Athletic Shoe, for example, reduced its footwear supply chain by 65%, in part based on performance against sustainability criteria.
3. Tackle the small things first
An inventory of everything you produce can also help you identify some easy things to correct in your supply chain.
"Some of the low-hanging fruits for a lot of companies have always been transportation and sourcing efficiency," sustainability entrepreneur Summer Rayne Oakes tells Inc. "If you're able to actually manage that, you're able to manage sustainability in a more aggressive way within the company itself," she says.
One simple fix: avoid expedited shipping whenever possible.
Ecopreneurist advises, "If you're caught in a bind where you're forced to use overnight air delivery or a local messenger, it's probably because you're not managing your schedules, the supply chain, or the production process effectively."
The bottom line: Greening a supply chain doesn't have to be an exhaustive or enormous undertaking. Rather, small steps can help a company be greener — while also saving money.
Kelly Spors is a freelance writer and editor based in Minneapolis. She previously worked as a staff reporter for The Wall Street Journal, covering small business and entrepreneurship.