Extended Vacations & Their Effect on School Attendance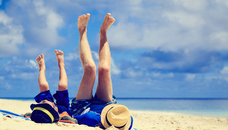 Has spring break week evolved into spring break month? It's no secret that sanctioned school vacations are often extended, as families tend to leave early or come back late for holidays such as spring break. The reasons range from sky-high costs during peak travel times to work schedules that don't match up with your school's vacation days.
The extended vacation is an increasingly hot topic as parents and schools try to determine how much time off is appropriate.
Why consistent school attendance matters
The most obvious and pressing issue for schools is that when students miss instruction time, they create additional work for teachers, who have to develop lesson plans ahead of schedule.
But that's just one piece of the puzzle. Children's absences can create additional work for all the staff, including administrators who keep track of attendance and principals who review absence requests. And when kids miss class and the school's attendance figures fall, in many states, they lose funding.
Fines for absence & truancy?
British schools have implemented a law that levies fines on parents who remove children from school outside of authorized holidays. Shortly after the rules were implemented, a quarter of primary school leaders reported fining parents, and many more assumed that parents were skirting the rules by claiming their children were ill.
U.S. schools may not be fining families, but some schools are labeling such non-excused absences as "illegal."
"I certainly don't think that absences should be 'illegal,' but as a teacher, I find them incredibly disruptive and wish that they happened less frequently," says Kira Del Mar, a middle school English teacher in California, in response to an essay on a popular parenting website where a mom objected to her child's absence being labeled "illegal."
"It takes considerable time to put together homework in advance, to check in with students, and to decide what missed classwork should be adapted, what should be excused, and what needs to be made up outside of class time," she says.
Principals can set attendance policy up front
Sometimes the best option for school administrators is to set expectations firmly but professionally, without citing legality or threatening to fine parents.
Former school principal Dr. Richard Horowitz says he had to address the issue early on about 15 years ago when he oversaw a suburban school in New Jersey. "Teachers were coming to me complaining of requests from parents for schoolwork that their children could do on vacations that involved missing school," he says.
As a result, he created a policy. First, he stressed that missing school for vacation sends the message to children that their parents prioritize personal choices, like vacation, over the obligation of attending school. Further, he said that teachers would not prepare specific lessons for children who were missing school days for elective vacations.
Horowitz reported that the policy was highly supported by his teachers, but that parents also accepted it relatively easily. The school saw a marked decrease in vacation requests.
He says one key to success was communication — distributing the policy to all parents in writing and having them sign and return it, as well as obtaining buy-in from various parent-teacher organizations.
When extended vacations cause an issue for teachers, the proper solution is for the school administration to step in and see what they can do to remedy the problem.
Cathie Ericson is a freelance writer covering business and consumer topics. She creates branded content for Fortune 500 companies, and her work has appeared on LearnVest, Costco Magazine, Forbes, TheGlassHammer.com and IDEA Fitness. Follow her @cathieericson.