Preview of NIGP Forum 2016: What You Need to Know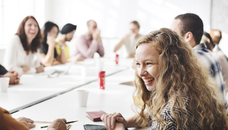 The NIGP Forum 2016, held August 21-24 in National Harbor, Md., is the country's largest annual gathering of public procurement professionals, with about 1,000 in attendance.
What can you expect this year? There will be speakers, educational sessions, networking opportunities, and access to more than two hundred vendors — including Office Depot, an Enterprise sponsor.
For an expert's perspective on how to take advantage of all this year's forum has to offer, we spoke with Charles Kasprzak, a senior marketing analyst in contract marketing for Office Depot, as well as an NIGP Forum attendee.
OD: Why should public procurement professionals attend NIGP Forum 2016, and what can PPOs expect to learn?
Charles Kasprzak: The NIGP Forum is one of the largest public sector events and many, if not all, of the public sector cooperative buying organizations, cooperative contract holders, and suppliers will be in attendance. At the seminars, procurement officials can learn important things such as who the cooperative buying organizations and suppliers are, the advantages of cooperative purchasing, and the best practices of other public procurement officials (PPOs). At the trade show, PPOs can learn about products and services available from Office Depot, as well as many other vendors.
OD: What are the big procurement trends at NIGP Forum 2016?
Kasprzak: Public Procurement trends typically involve cutting costs, collaboration, and service sharing. NIGP speakers may address these and other trends through various seminars such as "TCO - The Value of Total Cost Ownership." Supporting our cooperative partners, Office Depot is working hard to continually adapt to the evolving needs and trends in procurement.
OD: What might Office Depot be planning for NIGP Forum 2016?
Kasprzak: Office Depot has for many years been a supporter of NIGP and the annual Forum. Our sponsorship allows us to participate and present in seminar events and we'll be available at our trade show booth. This year we'll be welcoming attendees as we always do, and launching some great new programs for our cooperative customers.
OD: What else should attendees know in order to get the most out of NIGP Forum 2016?
Kasprzak: I'd suggest taking the time to look at the seminars and events to make sure you attend the events that interest you. The NIGP Forum app can be a tremendous tool to keep you on track. At the trade show, it's best to have a plan to visit all the booths, including Office Depot at booth #521, and be prepared with a bag for all the collateral and educational material you will no doubt collect during the show.
The Takeaway: NIGP Forum 2016 is an exciting way to stay on top of important public procurement trends while learning best practices from other industry professionals. By keeping these suggestions in mind, you'll be getting the most you possibly can out of this year's forum. Enjoy!
About the Author
Boston-based Chuck Leddy has been producing engaging content since 1995. He's been a business writer and digital content provider for big-name clients like General Electric, ADP, the National Center for the Middle Market, smartShift, and many more. He's also been published in the Boston Globe, Washington Post, and San Francisco Chronicle.