5 Ways to Improve Office Ergonomics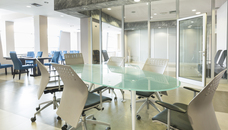 Improving the ergonomics of your office can have a big impact by reducing possible back, neck and joint pain, boosting your productivity, and improving your morale, according to a report from the U.S. Centers for Disease Control. By taking a look around your office, you can detect ergonomic challenges and then address them before they potentially cause you harm.
Ergonomics is about improving the fit between the physical demands of a workplace and the employees work there. When the fit is bad, employees could develop work-related musculoskeletal disorders (WMSDs). This includes tendonitis, lower back problems, and muscle strains.
Repetitive tasks and awkward body positions only exacerbate the risk. The U.S. Department of Labor estimates that about one-third of all worker injury and illness cases are the result of WMSDs.
Taking short breaks for stretching your muscles and joints can help. You might also consider a few strategic purchases to improve your office. An ergonomic chair or keyboard, for instance, can help remove pressure from your back and wrists.
Here are five ergonomic considerations to make when reconfiguring your workspace:
1. Chair position
Adjust the height of your chair — you want your feet to rest comfortably on the floor while your thighs are parallel to the floor. Your chair should also have lumbar support, meaning that it comes forward to cushion and protect your lower back.
Another important chair feature is the ability to swivel so you can easily reach for objects, as well as wheels to move back and forth when needed.
2. Keyboard and monitor position
When you type on your keyboard, your elbows should be at a ninety-degree angle. That way, you won't need to bend and strain your wrists. You also shouldn't rely on your chair's armrests when typing.
Your monitor should be at eye level in front of you, to reduce up-and-down neck motions. Try to place it at arm's length, and away from as much glare as possible.
3. Mouse position
Your mouse should be next to your keyboard. Like the keyboard, you should have your elbow at a ninety-degree angle.
Be sure to use your arms, not your wrist, when moving the mouse. A mousepad with a wrist rest may be a wise investment.
4. Other key objects
For efficiency's sake, these should be placed within easy reaching distance. Stand up to grab objects that are out of reach.
5. Your general posture
Our bodies generally work stronger, more efficiently, and are less injury-prone in midrange postures. To keep a midrange working posture, simply sit or stand upright, and don't bend your joints into extreme positions.
Be careful to keep your neck, back, arms and wrists within a range of non-strenuous, neutral positions. In addition, suggests a report from the California Department of Industrial Relations, "employees should be encouraged to be comfortable, to change positions, and to stretch when working."
By being aware of the importance of ergonomics for your health and productivity, you're well on your way to creating a better fit between you and your office. An array of online resources are also available — including some from Mayo Clinic, Lifehacker and the Occupational Safety and Health Administration (OSHA).
[The contents of this article are for information purposes only. The information does not constitute a medical consultation and cannot replace medical advice. Any information should never be used as a substitute for the advice provided by your physician or other health care provider. There are many possible causes for physical discomfort. If you are experiencing persistent symptoms or symptoms that are severe enough to interfere with your job or personal activities, consider seeking medical assistance.]
About the author
Boston-based Chuck Leddy has been producing engaging content since 1995. He's been a business writer and digital content provider for big-name clients like General Electric, ADP, the National Center for the Middle Market, smartShift, and many more. He's also been published in the Boston Globe, Washington Post, and San Francisco Chronicle.