Promote Good Health and Wellness At Your Agency — and Watch Productivity Rise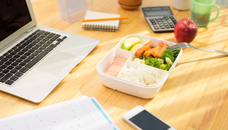 By and large, government agency managers are doing a better job of upgrading their employee's health and wellness experiences.
But a new federal study points out what really works for government execs looking for better health and wellness workplace solutions — and it all starts with leveraging "high impact" wellness strategies.
Some agencies already have a good road map that's caught the attention of the federal government. According to the U.S. Office of Personnel Management, it's a mixed bag on health and wellness initiatives for agencies.
On the plus side, government offices score highly on key issues like vaccine-preventable diseases, occupational health and safety, and a tobacco-free working environment. Same goes for stress management and fitness programs, including on-site workout centers.
On the down side, agencies could do a better job in promoting healthier nutrition practices among employees, lactation support, and broad-based organizational support for more robust health and wellness office initiatives.
The OMP report recommends the following steps for government agency decision-makers to improve workplace wellness efforts:
More than 50% of the food and beverage choices available are healthy
Provide nutritional information (beyond standard nutrition information on labels) on sodium, calories, trans fats, or saturated fats for foods and beverages sold in worksite cafeterias, snack bars and more
Identify healthier food and beverage choices with signs or symbols
Have a written policy on lactation supports for employees
Provide a private space (other than a restroom) that may be used by an employee for lactation support
Provide flexible scheduling, unpaid break times, and paid break times to allow mothers for lactation support
Provide work-life balance and life-skills programs
Provide managerial training on identifying and reducing workplace stress-related issues
Provide managerial training on dealing with employee depression
Provide managerial training on the value of worksite health and wellness programs
Have a policy that allows employees to use flexible scheduling or excused absence to participate in worksite health and wellness activities
Promote the benefits of flu vaccinations through both written or online information
To create what the OMP calls a "Culture of Health," government agency managers must also focus on the following key, broad-based areas:
1. Leadership from up top
Managers may consider a commitment to making health and wellness programs a workplace priority. If staffers see wellness as a top priority for management, they'll adopt the same mindset.
2. Appoint a coordinator or committee
Successful workplace health initiatives may include effective coordinators who can communicate the importance of health issues, primarily through workshops, memos, and regular emails on health and wellness tips, the OMP states.
3. Develop a "formal action planning process"
Agencies can promote their health and wellness programs, and a solid plan of action can help. Ideally, your plan may include engagement initiatives, priority outcomes, regular program monitoring and tracking, and specific "action steps," like timelines and a program budget.
Also make sure your agency's health and wellness program is an ongoing, dynamic process — one where your committee or coordinator is communicating regularly with staffers. Once you start rolling, take time to evaluate program performance, and tweak and adjust guidelines as you move along.
Lastly, to regularly asses how your office is performing, the U.S. Center For Disease Control provides a handy scorecard to track progress on workplace health initiatives. The CDC says it helps "employers assess whether they have implemented science-based health promotion and protection interventions in their worksites" to improve employee wellness.
It's increasingly obvious that a healthy workplace is a productive workplace. So get going, and make sure you're agency is invested in good health.
Brian O'Connell is a writer with 15 years' experience covering the intersection of government, business and technology. A former Wall Street bond trader, he has written for dozens of top-tier national publications, including TIME, MSN Money, Forbes, The Wall Street Journal, CNBC, The Street.com and CBS Marketwatch.