Six Subtle Ways You Might Be Turning Off Patients (That Have Nothing To Do With Care)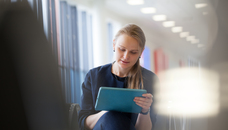 Sometimes visiting a healthcare practice can seem as impersonal as a wait at the DMV. Your providers might have the most esteemed credentials and offer the best possible patient care, but your office may still be losing patients due to systems you have in place that lead to poor patient satisfaction. 
Here are six small but mighty ways your patients might be getting the wrong impression about your practice — and how you can improve your processes to improve patient satisfaction. 
1. You don't make it easy to book an appointment
Who hasn't called a healthcare practice and been put on endless hold, or worse, called during the staff's "lunch hour" and then needed to remember to call back another time? According to Accenture, online patient self-scheduling is set to surge, with 66% of U.S. health systems offering it by the end of 2019, and 64% of patients booking appointments digitally. Now might be the time to install it.
2. You don't give options for filling out paperwork
Some people prefer to fill out the paperwork in advance at home, and others want to do it at the office with an iPad system or even an old-fashioned clipboard and pen while they wait.
Offer options that make it easy for your patients. It's certainly something they dislike: in the "Connected Care and the Patient Experience" survey from health information network Surescripts, half of Americans agreed that renewing a driver's license would require less paperwork than seeing a new doctor for the first time.
3. You don't make patients feel welcome
Many patients are nervous or uncomfortable, and sometimes all it takes is a friendly smile from the front desk to put them at ease. While office staff are often harried and stressed themselves, they should be trained to treat patients with respect, rather than rushing through the check-in process. Remember, patient satisfaction starts with your front office. They are the first and last people your patients see when coming to the office.
"Your front office staff are the face of your practice — an expression of your practice's philosophy, attitude, and values. So it should be a top priority to hire and retain top-quality people to fill such roles," says Rosemarie Nelson, MS, a principal with the MGMA Health Care Consulting Group.
4. You don't respect your patients' time
Everyone understands that emergencies happen, and we all appreciate getting our physician's full attention when it's our turn. But research shows that wait times can average 20 minutes, and waiting without any update can make a patient fume. Communicating wait times to your patients is a great way to improve patient satisfaction.
If you know everyone is running behind early in the morning, let your patients know and give them the opportunity to reschedule, or at least come in closer to when their appointment time is likely to occur.
5. Your waiting room is unappealing
We all know the joke about waiting room magazines from decades ago. (Turns out there's a reason for that: your patients are stealing the good ones!)
But there are ways you can make your waiting room more inviting: keep stocking those magazines; offer a water dispenser, provide access to Wi-Fi, and don't forget the hand sanitizer. 
6. You don't make it easy to come back
Patients get busy and often forget when they need follow-up patient care, whether it's to report back on a test or a routine checkup. And when wait times to get an appointment are running longer than ever, it can be important to keep them on schedule. Find out how each patient prefers to be reached — via email, phone call or mail — and create a system to check back in with them according to their needs.
Cathie Ericson is a freelance writer covering business and consumer topics. She creates branded content for Fortune 500 companies, and her work has appeared on LearnVest, Costco Magazine, Forbes, TheGlassHammer.com and IDEA Fitness. Follow her @cathieericson.