Want Better Vendor Relationships? 6 Things Suppliers Want Their Customers to Know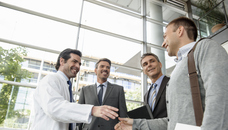 Reliable supplier relationships can enhance a healthcare practice's performance. Here are six things that your suppliers wish you knew that would help forge a stronger partnership.
1. We want to help you achieve your KPIs
Every healthcare practice is focused on better patient care, and your supplier partners are poised to support that. But most healthcare facilities have other supplier-related goals to reach, such as cost savings, waste reduction, procurement ROI, cycle time or overall internal satisfaction. Letting suppliers know what KPIs you'll be measured against allows then to suggest relevant solutions.
2. We want to educate you on how product benefits can improve your practice
"The sales rep or account executive should have deep knowledge of the product they're selling and be aware of its healthcare applications and restrictions," says Reda Chouffani of Biz Technology Solutions.
By aligning with suppliers who have teams dedicated to the healthcare market, practices can be assured their partners know how to address that specialized setting.
3. We want you to know more about us
Trusted suppliers approach the relationship from a team perspective. Does your supplier bring you "behind the curtain"? They may offer a tour of their facilities, meetings with their superiors, or access to their subject matter experts as proof of their commitment.
When evaluating your vendors, consider the level of openness they share.
4. We want to know more about you
We get it — you're busy. But even when a supplier has forged a strong partnership with the office manager or administrator, meeting the whole team can help them serve you better. Feedback from practitioners and those who deal directly with patients allows your suppliers to suggest solutions customized to their challenges.
5. We want to be your supplier of choice and support more of your categories
With suppliers, less is often more. Consolidating multiple categories to one supplier leads to an increase in administrative efficiencies, a more holistic partnership, favorable economies of scale, and a big-picture understanding of your needs.
6. We want to understand your business cycles
Suppliers know they can better meet your needs when they have the inside track on your practice.
Some practices may be bombarded by patients trying to use their health benefits by year-end. A family healthcare practice is likely to have a plethora of coughing kids in the winter and allergy sufferers in the spring. Knowing when those cycles typically start allows suppliers to help you stock up on extra disinfectant and tissue.
Got other plans on the horizon, like an expansion or new services? Share your goals and vision and your partners can suggest solutions accordingly.
The bottom line is that having a successful supplier liaison is a two-way street. "In today's world, managing the supply base is about strengthening relationships that can make or break your business," says Mickey North Rizzain an article in Supply Management . "Earning your suppliers' trust with honest communication, listening to their concerns, and involving them in your processes ultimately makes them a vested partner in your business."
About the Author
Cathie Ericson is a freelance writer covering business and consumer topics. She creates branded content for Fortune 500 companies, and her work has appeared in LearnVest, Costco Magazine, Forbes, TheGlassHammer.com and IDEA Fitness. Follow her @cathieericson.