Three Conflict Resolution Tips for Doctors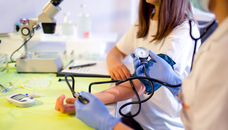 Conflicts may arise between physicians and their patients, their colleagues and others. But knowing how to manage conflict effectively is the key to resolving issues for both sides so that things can move forward for all.
Catherine Hambley, Ph.D., is a psychologist, executive coach and organizational consultant with Leapfrog Consulting and the Academy of Brain-Based Leadership based in Monterey, Calif. Here she shares her top tips that physicians can use to manage conflicts with others.
1. It's a Partnership
Whether you are trying to convey troubling test results to a patient or discuss revenue with a practice partner, the principles of effective communication are the same: focus on the outcomes you want to achieve, said Hambley.
"Be aware that there are two parties involved," she said. "Be curious about what the other person is perceiving and what you might be missing, and be willing to share your perspective as objectively as possible."
2. Take the Time, Even When There's None
Even when patient appointments are scheduled tightly, it's important to take the time to connect with your patient, said Hambley. "It's like with money; with time, you have to spend a little to make some," she said. "When patients see physicians are listening to them, and ask at the beginning of appointments, 'What would you like to get out of your visit today?' or 'What do you understand about what we are talking about?', these kinds of questions give patients more autonomy and help them feel like there is someone there who actually listens and cares."
This process also helps solidify the idea that the physician and the patient are still communicating together effectively. Without it, "when someone is in an emotionally triggered state, their ability to collaborate starts to diminish. The more a physician can minimize any threats, the more they can partner with their patient and the more the patient will want to feel like they want to 'buy in.' Patient satisfaction is very much related to whether the patients think they are being listened to and cared about by their physicians," she said.
3. Acknowledge Anger
In a conversation, both sides are motivated and triggered by different things. "If I'm the doctor, and I can see the person is angry, one solution is to say. 'I can see this is really upsetting to you,' said Hambley. Labeling the emotion can help calm the situation, she added. "You can say 'Maybe this is not the best time; maybe we can do this another time so we can have more productive dialogue." That approach can help to acknowledge but not trivialize the issue, so that the other person doesn't feel the issue is being swept under the rug, she said.
Following these tips can help manage conflicts so they become effective and not destructive. "So often conflict doesn't get resolved because we tend to see it from our own perspective and feel we are the only one who is injured," said Hambley. "You can't know what is going on with the other person unless you ask."
About the Author
Cheryl Alkon is a seasoned freelance writer and researcher who has covered health, medicine and healthcare extensively. She has written for a variety of consumer, trade, custom and online publications, including USA Today, the New York Times, Prevention.com, More, Women's Day, ENT Today, Oncology Business Management, among others. She is the author of "Balancing Pregnancy With Pre-Existing Diabetes: Healthy Mom, Healthy Baby." (Demos Health, 2010). Find her online at CherylAlkon.com.