Up With Periscope: 5 Ways Teachers Can Use Twitter's New App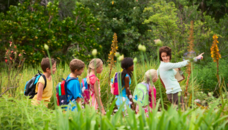 It's high school sports orientation night, but not all of your students or parents can attend. What about using your smartphone to broadcast live video of the meeting online?
This is just one of many ways educators can use Periscope, released by Twitter in March 2015 for iOS and Android. The free video app lets you easily livestream video using your smartphone or tablet. Video is automatically stored up to 24 hours, or you can save it for replay later.
Periscope isn't the first video-streaming service for mobile, but its simple interface and integration with Twitter have led to quick popularity (10 million users as of August 2015). When you broadcast through Periscope, Twitter automatically notifies your followers that a livestream is happening. iMobile users can view the live video either in the app or on Twitter. Desktop users can view your video only on Twitter, since there's no desktop app.
Anyone on Twitter can view your video — not just your followers. However, there is a privacy option that lets you stream only to a select group. As it streams, viewers can post comments and questions, plus send "hearts" if they like what they see.
There are alternatives to Periscope, such as Meerkat, which was also introduced in March for both iOS and Android. But Meerkat doesn't auto-notify your Twitter followers, and the video isn't automatically stored for 24 hours — it disappears after your broadcast.
Older livestreaming tools have mobile options — UStream is one example — but they often aren't integrated with social media platforms or aren't as user-friendly.
Periscope is being adopted by educators at both K-12 and higher education levels. Here are some uses to consider:
1. Holding virtual meetings and field trips
Some students are taking a class trip to Washington, D.C. Others can't make it — but they can experience it via Periscope video.
All manner of virtual meetings are possible. Students can connect with video pen pals from around the world. Professors can hold virtual office hours. Experts can "visit" a class to answer questions.
2. Measuring student progress
Education Week blogger Starr Sackstein says Periscope is a great way to show students' development over the course of a school year. Videos demonstrating continuing growth in a particular subject can be a good addition to a student's portfolio of work.
3. Enhancing professional development
Instructors can connect with peers in other schools, cities and countries. Perhaps a teacher is having a problem with her educational tech and needs help. He or she could post a quick Periscope video describing the problem and ask for suggestions to fix it. 
Or educators can share learning strategies — examples on how to teach a particular lesson or how to use a new tech resource.
4. Marketing your school or program
A prospective student calls with questions. You can take him or her on a real-time tour of the campus or virtually sit in on a class.
As part of your college marketing toolkit, you can also add video feeds to events such as commencement exercises, Duke University's Cara Rousseau tells USA Today. 
5. Boosting parent engagement
Parents can view student presentations or other activities that take place during class or after school, from student presentations and performances to class plays and pep rallies. The real-time aspect of streaming video helps parents and other family members feel more engaged and part of the experience. 
Lorna Collier's articles on education and technology have appeared in US News & World Report, the Chicago Tribune, MSN.com, AARP Bulletin, MindShiftand many other publications. She is a contributing editor at GetEducated.com. Follow her @lornacollier.