6 Ways to Make the Most of Your Time at ISTE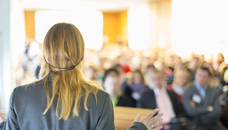 "The ISTE Conference & Expo is like the Super Bowl of education technology conferences," says teacher-turned-exhibitor Eric Nelson.
And it's almost game time: on June 26, more than 18,000 educators and education leaders will descend on Denver, Colo. to network and learn from their peers and colleagues. Since conferences represent a major time and financial investment, we've got you covered with a guide that will help you maximize your visit.
1. Set a goal
First, determine if you're most interested in "learning, getting or connecting," suggests Nelson. Of course, you'll do all three, but it's smart to allocate your time accordingly.
If your main goal is learning, he recommends attending the keynotes and panels while also finding time for poster sessions, where you can interact one-on-one with the presenters. Lisa Wolfe, who handles communications for ISTE, suggests EdTekTalks: "These provocative mini keynotes from voices outside of education are inspiring."
If you're there to "get," head to the Exhibit Hall, where you'll be inundated with resources, ideas and, likely, some good swag.
If you're there to connect with others, contact attendees ahead of time — ISTE's Professional Learning Networks are a great place to start — and plan to meet up at an event or this year's new ISTE Campfire. And don't overlook impromptu opportunities: "Chat people up in the bus line, waiting for an elevator and at lunch," says Wolfe. "You will learn so much networking with your colleagues from around the world."
2. Plan ahead
Don't wait until you land in Denver to map out your strategy — veteran conference goers recommend creating your game plan before you leave.
Wolfe points to the conference app as an invaluable resource for creating a schedule to maximize your time. It includes directions, conference updates, and channels for connecting with presenters and attendees.
3. Focus on certain topics
Since ISTE is enormous, pick two or three topics for a deep dive, advises Dave Crusoe, senior director of digital engagement and ed tech for Boys & Girls Clubs of America.
Use the keyword feature on the conference website to hone in on those areas, or browse the whole schedule to determine the prime events. "View each opportunity through the lens of how it will impact, evolve or improve your performance," he says.
4. Have some fun
"Go play in the Playground — yes, seriously," says Wolfe. She's referring to the area where guests can dabble in design and programming materials for Makerspaces.
"There is always something intriguing from the world of making, STEM and beyond going on there." Another fave hangout is EdTech Karaoke, where you can belt out a song or two with your colleagues.
5. Share the goods
Many schools or districts designate one representative to help save costs.
To share the wealth with other colleagues, Crusoe recommends asking in advance about their top interests. "You're going to bring home a pile of literature, but it's just wasted paper unless you are filling a meaningful need," he says.
6. Follow along at home
Can't make the trek to Denver?
Wolfe recommends staying on Twitter and Facebook, and #ISTE2016. There you'll find observations from other attendees, pithy summaries of presentations, and links to additional information. The association will also be updating the ISTE Connects blog with daily posts. And the app isn't just for attendees— it offers a wealth of resources, presentation summaries and more.
It's bound to whet your appetite for next year's ISTE conference in San Antonio, Texas.
About the author
Cathie Ericson is a freelance writer covering business and consumer topics. She creates branded content for Fortune 500 companies, and her work has appeared in LearnVest, Costco Magazine, Forbes, TheGlassHammer.com and IDEA Fitness. Follow her @cathieericson.