5 Places That Can Help You Grow Your Business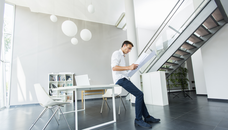 Starting and building a business can be a lonely journey fraught with risks. Even the most successful business owners need advice and guidance, and have stories of things they wish they'd done differently.
Thankfully, there are resources available to help you find the mentoring and wise counsel you need to turn your business dreams into reality. And: many of them are free.
Here are five places to turn to for help as you grow your business:
1. SCORE
This nationwide nonprofit association has more than 13,000 volunteer business counselors that offer free advice. Many are retired or semi-retired business executives with decades of experience. Now they're eager to share all of the insights and knowledge they gained with a new generation of entrepreneurs. Go to SCORE's website to connect with a mentor online, or find the nearest SCORE office.
2. Small Business Development Centers
Sponsored by the U.S. Small Business Administration, the Small Business Development Centers (SBDCs) program has 900 national locations and is run in partnership with state and local governments, higher education institutions and private companies. Your local SBDC is a place to get free advice and low-cost training. You can figure out how to develop a business plan, and find out how to secure manufacturing assistance, financing, export and importing support, and more. With many of these centers located on college campuses, some people worry that they're too academic — but many of the advisors have years of business experience. Go to the SBA's website for a full list of SBDC locations.
3. Networking groups
The best place to turn for advice and help is often other entrepreneurs who are trying to build their businesses at the same time as you. Consider joining a networking group such as the Entrepreneurs' Organization or Vistage. Chambers of Commerce also have networking opportunities and business assistance programs.These groups can immerse you in meetings with peer groups, educational opportunities and other events. This is about entrepreneurs helping each other out, and these groups'support raises the odds that your business will thrive. Such access may cost you, though. An EO membership is $1,800 a year, while a Vistage membership runs into the thousands annually.
4. Community banks
Seasoned small-business bankers have seen a lot over the years. Many are happy to talk about your business, offer advice and point out resources even if you don't yet need a loan. After all, they want you to succeed, especially if you'll need a loan in the future — such relationship-building allows smaller banks to better handle risks.
Different community banks have different focuses. Ask a prospective bank if it is part of the SBA's Preferred Lenders Program, which means it has more experience than an average bank when it comes to processing SBA-backed loans. Inquire with your local SBA office about which lenders in your area are especially focused on small-business lending.
5. Incubators
A business incubator could provide the support you need to grow. Some are located in actual physical spaces while others are virtual. Besides offering offices and mentorship, they can also provide access to services including lawyers and accountants, and you could receive capital if your business reaches certain goals. If you decide on an incubator, make sure to shop around. Investigate your state and local economic development agencies, as well as your local SBA office.
Kelly Spors is a freelance writer and editor based in Minneapolis. She previously worked as a staff reporter for The Wall Street Journal, covering small business and entrepreneurship.