Photo Sharing on Your Website: Which Pics Are OK to Use?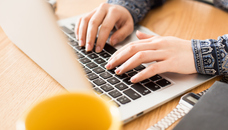 Looking for pictures to illustrate your website, blog or newsletter? You might think finding them is as easy as searching on Google and downloading your favorites, but these images are often copyrighted. You could wind up in legal trouble for using them without permission.
Instead, visit sites where it's OK for you to download images, for free or for a small fee. There are plenty of options:
1. Large, commercial stock photo providers
Top commercial stock photo sites offer millions of images — photos as well as illustrations — organized in easily searchable databases. Shutterstock and iStockPhoto, two of the most popular services, offer various payment options and subscription plans. The downside: prices of $20 or more for most of these high-quality images.
Note that even though these sites are primarily set up for commercial sales, they also offer free photos, though with a much narrower selection.
Other than price, another downside of using a popular stock photo site is that other business people are likely to be using it, too. You run the risk of competitors posting the same photo you just bought.
2. Sites that focus on free and public-domain images
While there are many sites offering free photos, sorting through them can be time-consuming. A good first step to find publicly available images is to look at Creative Commons, cited by Digital Trends as "one of the best choices for public domain content." Creative Commons includes images collected from a variety of other photo spots, such as Flickr and Google Images, but filters them for public domain licenses.
Other options:
Wikimedia Commons, like Wikipedia, is run by users who upload and tag the images. Choose the "public domain" filter to ensure you're getting freely available pictures. Or, suggests Digital Trends, type "PD" before your search term (for example, "PD sailboats").
Pixabay, freeimages, Dreamstime's free images section, and FreeDigitalPhotos — which offers small images for free, with attribution, but charges for larger sized ones) repeatedly show up on curated lists of top photo sites.
Government sites, such as NASA's JSC Digital Image Collection, can be good resources depending on what type of image you need. Flickr has a public domain collection of government sources, though these tend to be historical in nature.
3. Key takeaways for subscription and royalty-free images
• Before signing any subscription deals, search for the type of images you are likely to need. Not all photo sites carry the same kinds of images. You don't want to find out too late that yours doesn't carry any images of yarn if you run a knitting business, or cars if you own a car dealership.
• If you sort photos by popularity, especially on more well-known sites, don't automatically pick the most popular ones — you run the risk of these showing up on many other business blogs or websites.
• Photo sites should include the licensing info for an image. Some will let you have the image for free, no strings attached ("Creative Commons Zero"). Others let you use it, but require you to credit the photo's creator with a line of text next to the image ("Creative Commons With Attribution").
About the Author
Lorna Collier is a Chicago-area writer whose articles about business and technology have appeared in the AARP Bulletin, Intuit Small Business Blog, Workforce Management, Crain's Chicago Business, CNN.com, USNews.com, the Chicago Tribune, and many others. You can follow her on Twitter at @lornacollier.